Barberspan conference 28 November – 3 December 2013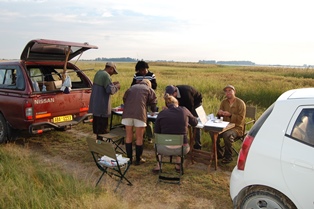 The ringers' conference from November 28 to December 3 is approaching fast and we would like to urge everyone to consider joining us at Barberspan for a novel event unlike anything experienced before in South Africa.
Attractions range from talks and practical sessions presented by Kobie Raijmakers on the identification of cisticolas and reedbed warblers to participating in the "Baltic to Barberspan" project, an international effort to track migrants from their breeding grounds in the north to their snowbird summers in South Africa. Ringers, trainees and birders can also attend sessions, workshops and demonstrations on all facets of bird ringing and atlasing.
The conference is organised this year by Safring in partnership with the Bird Migration Station at the University of Gdansk in Poland. The event will combine talks with ringing sessions in the mornings and afternoons. Participants can join groups trapping and ringing waders, ducks and passerines or conduct their own ringing around Barberspan Bird Reserve, a Ramsar site and IBA. Teams will demonstrate techniques from operating walk-in traps to camera trapping and the locating of nests by arrays of audio recorders. Plans are being made to attach loggers to various species and the specialised skills this requires will be demonstrated and discussed. More topics are also being planned.
Ringing will be conducted from the afternoon of Thursday November 28 to Tuesday morning December 3. The formal programme of talks, presentations, workshops and social events is scheduled from Friday until Sunday. Further details and the programme will follow soon. Anyone interested in presenting a talk, presentation or workshop please contact the organisers. Meanwhile please pass on the news about the conference to friends and colleagues.
For more information and registration please go here.
link to this new item